TU Dublin Bolton Street Boiler Replacement
Project Description:
The project scope consisted of equipment and energy upgrades and modifications to the existing mechanical and electrical services serving the central boiler plantroom. Central to the project was replacing the existing boilers, associated shunt pumps and MCC panel.
The project scope of work encompassed the following new elements:
Decommissioning and strip out of existing services.
Builders Works
Gas Fired Boilers (3600kW combined capacity)
Twin Wall Stainless Steel Flues
Circulating Shunt Pumps
Plate Heat Exchanger (3700kW)
Pressurisation Unit & Expansion Vessel
Air & Dirt Separator with Magnet Filter
BMS Controls & associated MCC Panel
Energy Heat Metering of LPHW Circuits
Gas Detection and associated gas slam shut valve
Electrical Power Distribution
Fire Alarm Protective Services
Natural Gas Meter
LPHW Heating Pipework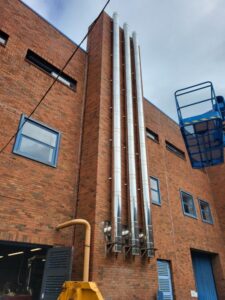 Project Achievements:
Executed the project works and commissioned the new equipment during the summer shutdown of the University and delivered the heating online before the University re-opened in September.
Increased energy performance by the installation of new energy efficient equipment, reducing natural gas and electricity consumption.
Improved operation control of the mechanical systems for building facilities through the installation of modern BMS and controls systems.

Duration: Three months
Approx Value: € 575,000.00